Passport
An international full service provider of Travel Documents - A wide range of products and open innovation R&D -
Overseas travel has increased dramatically for the past two decades. The clear determination of a passenger's identity must therefore meet the increasing demands for a maximum level of security and has to happen in a faster and more automated manner at the same time.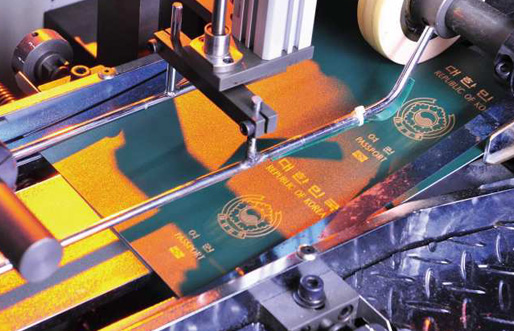 KOMSCO, as a government-designated passports manufacturer and issuer in the Republic of Korea, has always strived hard to respond to the world's trends and to achieve protection against forgery and alteration for a long time. Since Aug 2008, We have been introducing centralized personalization system for stronger security measures and improvement in the quality and consistency of the personalization process.
We are well prepared to provide our customers with tailored passports along with secure solutions regardless of an electronic or standard passport, and whether it is personalized on an inkjet printer or retransfer printer or by laser engraving. In short, KOMSCO can provide all the individual components for travel documents including security printing, chip operating systems and system solutions.
Download Brochure
About Passports
KOMSCO has been involved in the design and manufacturing of the Korean passport since 1973. The design and security features of Korean passport have been changed several times from Machine Readable Passport (MRP: Photo Stick-in, Digitized Photo) into Biometric Passport.
Our abilities are based on our wide experience, knowledge and the special facilities to manufacture high-quality identity documents. We aim for perfection in security and quality management through our various anti-counterfeit technologies.
MRP(Machine Readable Passport)
MRP(Machine Readable Passport)
Ordinary Passport
Diplomatic Passport
Travel Certificate
Photo Stick-in
Data Page
Digitized Photo
Data Page
e-Passport
MRP(Machine Readable Passport)

| | | | |
| --- | --- | --- | --- |
| | | | |
| Ordinary Passport | Diplomatic Passport | Travel Certificate | Data Page |
Our efforts have been rewarded with designation of e-Passport manufacturer and issuer by the Ministry of Foreign Affairs. Each passport is manufactured according to ICAO guidelines and international standard.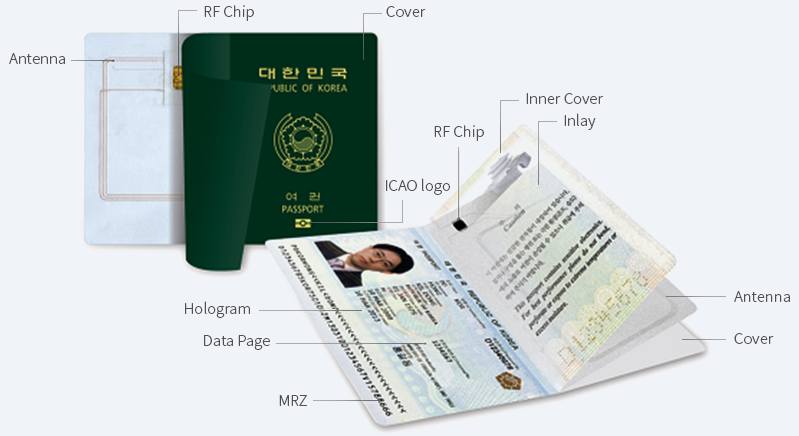 KOMSCO's Passports are strongly recommended
Public Confidence : KOMSCO, as a state-run company, manufactures banknotes, identity documents, securities, and other special printings which are used by government and local autonomous entities.
Drastic Security : Due to the issuance of identity documents which contain the holder's personal data, KOMSCO secures its facilities and products with high-tech security systems.
Technology : KOMSCO obtains more than 170 patents in technologies for manufacturing paper, printing plate and ink, design and engraving technologies for manufacturing banknotes, and special security products.
Quality Assurance : KOMSCO operates 'Total Quality Management System' and obtains ISO 9001:2000 certifications in whole production lines.
Compliance : KOMSCO issues a full range of ICAO standard e-Passports.
Durability : 10 years of utilization
Dispatch : KOMSCO dispatches e-Passports to local autonomous entities within 24 hours.