Coinage
A responsible Mint that plays a pivotal role in the coinage industry
KOMSCO has been a rule-follower and has followed the path that the other developed organizations have taken in the mintage industry. By bringing about innovations in technology development and production system, we have gradually strengthened our competitiveness.
We are committed to being the best provider of circulation and non-circulation coins, collectible products and services. We are a company that connects people and inspire celebration.
From an Arguably world class production system to a World best coin blank supplier, and Global collection distributor
What Do We Have?
KOMSCO undertook a project to modernize its mintage plant and finished building two fully integrated production systems, which encompass all of the processes from inserting coinblanks to minting, inspection, packaging: all parts of these processes are automated and sequent.
We are confident that our production system is incredibly advanced, innovative and highly esteemed by other Mints, related central banks and government officials who knock at ourdoor to benchmark the successful case of our project. We are well prepared to provide our customers with the details of our production system on the basis of professional engineering consulting.
In addition, the manufacturing site meets and is committed to maintaining the International Organization for Standardization external quality-assurance and environmental standards forproduction, installation and servicing.
Confidence, Excellence and Creativity
- A wide range of products and open innovation R&D -
10 Won, Republic of Korea
Latent Image
Nickel free alloys
QR code
KOMSCO, a newly modernized Mint, has the capacity to produce about 1.7 billion circulation coins per year and has experience with the export of circulation coins and master punches.Based on our confidence, we have achieved continuous contracts with many countries, one of which has been our faithful customer for more than 10 years.
Volatile base metal prices and rising production costs have created global demand for an alternative to the conventional coin. KOMSCO has put great effort into identifying costeffective newmaterials with higher producibility and durability through its joint R&D with the Industry-University-Institute. For instance, since 2006, the Bank of Korea has saved millions of dollars peryear thanks to the new 10-won copper-clad aluminum coin. In addition, KOMSCO strives hard to improve its technology development, in order to obtain superior quality and better long-term performance.
KOMSCO has garnered a reputation for technological innovation and exquisite design. Our coins won prizes at the Coin Award Program in Mint Directors' Conference. These coins aren' tjust money. Beyond the face value, they are more than meets the eye. Furthermore, we have crafted a variety of medallions and pieces of cultural jewelry and have issued them for artistic,commemorative or souvenir purposes.
Award - winning coins
CategoryMost Technically Advanced
Coin20,000-won silver coin
ThemeThe 560th Hangeul (Korean Alphabet) Day

CategoryMost Beautiful Coin
Coin30,000-won gold coin
ThemeFIFA World Cup Korea/Japan
Products
500 Won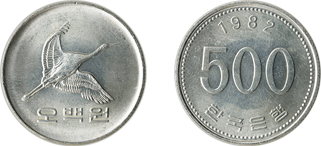 Date of first issue for series Jun. 12, 1982
Diameter 26.50mm
Weight 7.70g
Material Cu 75%, Ni 25%
Edge Milled
Design Crane
100 Won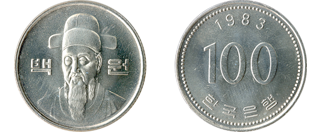 Date of first issue for series Nov. 30, 1970
Diameter 24.00mm
Weight 5.42g
Material Cu 75%, Ni 25%
Edge Milled
Design Admiral Yi Sun-Shin
50 Won

Date of first issue for series Dec. 1, 1972
Diameter 21.60mm
Weight 4.16g
Material Cu 70%, Zn 18%, Ni 12%
Edge Milled
Design Stalk of Rice
10 Won

Date of first issue for series Aug. 16, 1966
Diameter 18.0mm
Weight 1.22g
Material Copper-clad Aluminum(Cu 48%, AI 52%)
Edge Plain
Design Dabotap, Pagoda
5 Won

Date of first issue for series Aug. 16, 1966
Diameter 20.40mm
Weight 2.95g
Material Cu 65%, Zn 35%
Edge Plain
Design Kobukson, Turtle Ship
1 Won

Date of first issue for series Aug. 16, 1966
Diameter 17.20mm
Weight 0.729g
Material Al 100%
Edge Plain
Design Rose of Sharon