Social Responsibility
KOMSCO is committed to social responsibility as a government organization and to realize the healthy society, preparing various social contribution activities for people in need.
In this endeavor to promote social welfare, we can not only improve the quality of our own Life but also find the way to the good Life for all.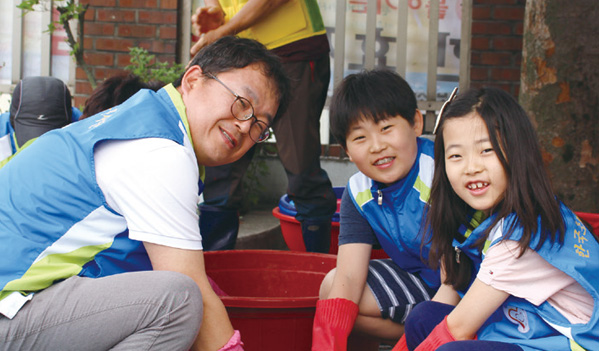 Voluntary Contribution
- '113 Sharing Campaign' & 'Community Service Day'
In order to remove polarization of the society and make a better place for everyone to live, KOMSCO has been developed sharing activities and volunteering programs. "KOMSCO Volunteers" comprised of KOMSCO employees is committed to helping people in need such as the elderly, disabled and low-income family.
According to well-organized plans, each branch operates various supporting activities such as welfare facility visit and sharing of food and coals and more than 2,000 employees participate in them every year.
1% of Salary Sharing Fundraising
KOMSCO has been carrying out "1% of Salary Sharing Fundraising" which is a certain portion of KOMSCO employees' salary is used to support neighbors who cannot afford to live by themselves. Many members of our staff have already participated in raising fund as well as doing voluntary work for low-income families, but we encourage more to join those activities.
Talent Donation
As a government organization, KOMSCO is always looking for ways to help people in need.
Audrey Hepburn Program (culture & art)

Main Activities

Making T-shirts and sitting cushion
Taking Special Picture with the elderly for longevity

Department in charge

Hercules Program (home repair & Physical activity)

Main Activities

Repair of a house for the socially weak and disabled
Physical activity support for children in orphanages

Department in charge

Mother Teresa program (education & cooking voluntary activity)

Main Activities

Education to distinguish counterfeit money
Fire prevention education
Donations of the crops

Department in charge
Community Contribution
Support for culture and art activities
Since its opening in 1988, more than 20 thousand people visit the Currency Museum each year and the Currency Museum has contributed significantly to the promotion of the general knowledge of currency culture and the improvement of currency making techniques.
In addition, the Currency Museum provides those who are isolated from culture an opportunity to watch exhibitions for free. A wide range of exhibitions and events are intended to resolve their desire for cultural activities.