Banknote & Security Paper
We always provide the best security paper, suiting all possible climates and circulation conditions of our customers. KOMSCO banknote paper, which is cotton-based banknote substrate, not only perfectly meets the typical requirements of a country's banknote denominations, but also offers unlimited opportunities for attractive banknote design containing all established security features.
In addition, all types of security paper, such as banknote, passports, securities, certificates, and other documents are also anti-counterfeit and fulfill many diversed usage.
With our business experience and technology expertise, we have been recognized as a trustworthy long-term partner by customers all over the world. Our good value security paper is used in a wide variety of applications by customers throughout the world. KOMSCO's security paper always increase the customer value and it gets more trust than before all of the time.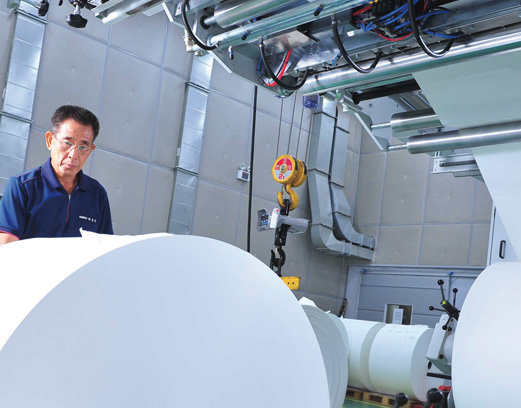 Guaranteed expertise in Security Paper - Delivering confidence to our customer with long experience
Caring for Environment
We at KOMSCO take our commitment to environmental standards very seriously. Our paper mill has been operated and maintained to meet the requirements of international environment standards.The paper mill is continuously accredited to the ISO 14001:2004 environmental standard.
Caring for Security
The paper that KOMSCO has dedicated itself to providing is more than just a commercial product: it is a platform for printing advanced security features. Therefore, the paper mill operates atthe highest possible level of security. In other words, every single process - from raw material processing and watermark design to production and finishing - is conducted under the mostrigorous security measures. So, all the products - finished sheets, work in process, and destroyed paper - can be accounted for.
Caring for raw material
The price of raw materials for cotton banknote paper is highly influenced by the rise of the price of oil and many experts expect that the price will consistently fluctuate withthe market. To cope with this difficult situation, KOMSCO has established an affiliate company as a joint venture. The company (GKD, GLOBAL KOMSCO DAEWOO) is located in central Asia,in Uzbekistan, which is known as one of the largest cotton exporting countries. With our engineering assistance and expertise, this company produces high quality cotton pulp so that KOMSCOcan maintain a secure source for its products whenever needed regardless of price changes.